(Klikkaa suuremmaksi!)
Nimi: Thawab al Qadir+ "Thawab"
Rotu: Arabialainen täysiverinen (domestic)
VH-tunnus: VH14-003-0076
Sukupuoli: Ori
Säkäkorkeus: 150cm
Väri & merkit: Musta
Syntynyt: 09.03.2012
(3v - 09.06.2012)
Koulutus: Vaativa B, re 60cm
Painotus: Kouluratsastus
Meriitit: VIR MVA Ch,
AHAC Legion of Honour (+)
Omistaja: al Qadir (VRL-10324)
Kasvattaja: al Qadir

HUOMIO!
Tämä on virtuaalihevonen. Kuvassa olevalla hevosella ei ole mitään yhteyttä tällä sivulla esiintyvään informaatioon.
- - - - - - - - - - - -
ATTENTION!
This is a
SIM-game horse
. The real horse in the picture has got nothing to do with the information on this site.

Web design © Kirsi R.
Fonts of the layout © dafont.com
Info
Thawab on ehdottomasti yksi hienoimmista kasvateistani; se on äärimmäisen älykäs, sillä on erittäin korrekti rakenne ja se liikkuu upein askelin. Orin suvusta löytyy virtuaalimaailman hienoimpia nimiä; sen emä on oma kantatammani Tara, jonka suvussa on yhdistyvät rayadlaiset ja dahabulaiset linjat. Thawabin isä on ihailemani musta Empera LIA, jonka suvusta löytyy upeita Shyalian kasvatteja sekä legendaarisia rayadlaisia. Lisäksi sekä isän että emän suvuista löytyy hienoja ulkomaalaisia hevosia. Tiedän että tästä uljas musta tulee yltämään tähtiin!
Luonteeltaan Thawab on orimaiseen tapaan impulsiivinen ja vahvatahtoinen. Se on kuitenkin yksi älykkäimmistä tuntemistani hevosista, eikä todellakaan helpota elämäämme omilla tempauksillaan. Ihmisten kanssa ori käyttäytyy varsin siivosti, mutta kokeilee nuorelle hevoselle ominaisesti usein rajojaan. Thawab ei kuitenkaan tahallaan haasta riitaa ihmisten kanssa ja ottaa nopeasti opikseen. Poika onkin nykyisin ihan mukava hoidettava kunhan muistaa sitoa sen kiinni hoitotoimenpiteiden ajaksi.
Ratsastettaessa Thawab on hyvin yritteliäs ja nöyrä. Se kuitenkin tarvitsee ratsastajaltaan hyvät ja selkeät avut, sillä muuten se turhautuu ja alkaa tarjoamaan omia kuvioitaan. Thawab on äärimmäisen nopea oppimaan ja olemme edistyneet kouluratsastuksen saralla viime vuosina hurjasti. Ori on hyvä kuuntelija ja osaa keskittyä melko täyspäisesti hommiin tammojen läheisyydessä ja erilaisissa ympäristöissä. Thawabilla on erittäin mukavat ja lennokkaat askellajit, joissa on miellyttävää istua.
Esteitä treenaamme orin kanssa vain satunnaisesti ja sen hyppytekniikassa on vielä tekemistä. Esteillä Thawab on varovainen ja helposti ohjattavissa, joten tekniikkaa hiomalla siitä saisi varmasti ihan kelpo ratsun esteillekin.
Suku
Empera LIA+
AHAC Legion of Honour
dom, rt, 150cm

Emporio Armani al Rayad
dom, trn, 154cm
C Armani++++
AHAC Legion of Masters, ASSA Regional Champion
PPA, rn, 152cm
W Laurel Fourja+//
Ch, KTK-II, AHAC Legion of Excellence
SEA, rt, 154cm
Aamira LIA+
AHAC Legion of Honour
dom, rn, 146cm
Aamir Badiyaah al Rayad
SEA, km, 150cm
Amal LIA+
AHAC Legion of Honour
dom, km, 149cm
Tharwaah Abaal al Rayad+//
Ch, AHAC Legion of Excellence
dom, km, 151cm
Trojan D+++
KRJ-II, AHAC Legion of Supreme Merit
dom, km, 150cm
Kashmir's Hoax
VIR MVA Ch, KTK-III, KRJ-IV
dom
Dahabu Psycho
Ch, KRJ-IV
dom
Kalahari al Rayad
Supreme
dom, rn, 152cm
Khaldun F+++
KRJ-IV, AHAC Legion of Supreme Merit
SEA, trn, 152cm
BT Calendyr++
KTK-III, AHAC Legion of Merit
dom, rn, 150cm
Kilpailut
AHAC
AHAC Profile
Points: 236
Title: AHAC Legion of Honour (+)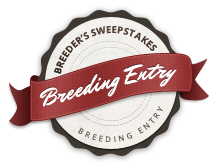 2 Championships
2 Reserve Championships
29 Top Tens
* * * * *
2012 TT US Nationals Yearling Colts
2012 TT St. Petersburg Open Sporthorse Under Saddle Futurity
2012 CH Towerlands UK Colt Futurity
2012 RC Towerlands UK International Futurity Reserve Champion
2012 TT Elran Cup Sporthorse Under Saddle Futurity
2012 RC Elran Cup Dressage Seat Equitation Futurity
2012 TT Arabian Masters Weanling Colts
2012 TT Arabesque International Festival Classic Head Colts
2012 TT Dubai International Weanling Colts
2012 TT Scandinavian Open Championships Sporthorse Colts In-Hand
2012 TT Travagliato Most Classic Colt
2012 TT St. Petersburg Open Sporthorse Under Saddle Futurity
2012 TT Asil Cup Dressage Seat Equitation Futurity
2012 CH Brussels Arabian Trophy Dressage Seat Equitation Futurity
2012 TT Vilhelmsborg Most Classic Colt
2012 TT Vilhelmsborg Dressage Seat Equitation Futurity
2012 TT Mooslargue Sporthorse Colts In-Hand
2012 TT Mooslargue Sporthorse Under Saddle Futurity
2012 TT Casino Cup Austria Weanling Colts
2012 TT Casino Cup Austria Most Classic Colt
2012 TT Casino Cup Austria Sporthorse Colts In-Hand
2015 TT Quantum August Summer Series I Eight Year Old Stallions
2015 TT Quantum August Summer Series I Liberty Sr. Stallions
2015 TT Quantum August Summer Series I Second Level Dressage
2015 TT Quantum August Summer Series I Third Level Dressage
2015 TT Merrist Wood Most Classic Sr. Stallion
2015 TT Moroccan National Championships Classic Head Sr. Stallions
2015 TT BT Somber Moon Arabian Cup Eight Year Old Stallions
2015 TT BT Somber Moon Arabian Cup Senior Sporthorse Stallions In-Hand
2015 TT Quantum August Summer Series I Eight Year Old Stallions
2015 TT Quantum August Summer Series I Liberty Sr. Stallions
2015 TT Quantum August Summer Series I Second Level Dressage
2015 TT Quantum August Summer Series I Third Level Dressage
Evaluations
All-Sim Evaluation Station
Rating: Bronze Premium


Inspected Element
Points Awarded
Character
3
Temperament
2
Ability to Work
4
Willingness to Work
4
General Specialty Aptitude
21
Basic Gaits
13
Rideability
29
Conformation
7
Grand Total
83%
Jälkeläiset